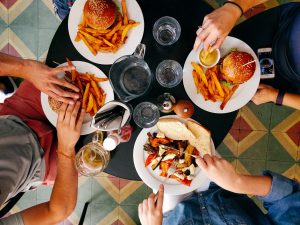 Saving Money While Dining Out
It's hard to believe that Labor Day is just around the corner. Life is speeding by so fast it makes your head swim. It was just Easter, then here comes Labor Day and next week it will be Christmas. Well, not really but it feels that way. Life is moving way too fast and we are way too busy. It's hard to even find time to cook, eat or just have family time. One year when my children were young, my son advised my husband that it "was Labor Day and Mom expected him to take us out to dinner!" I didn't really put him up to that, but the idea was definitely a winner. Of course, back in the old days, we didn't just jump in the car and drive through the fast food places or actually sit down in a nice, quiet restaurant. Moms cooked every day! What a different concept to eating!
In August of 2017, Americans spent roughly $2 billion more at restaurants than they did at grocery stores (according to the Department of Commerce's latest Retail and Food Services report). We love to dine out. But it is surprising how much money we are spending ordering our meals, rather than cooking them.
We already know that it is cheaper to shop for and prepare meals at home, but on the other hand, eating out is so convenient! Maybe we just need a little balance. Instead of sacrificing our favorite food places, we could work them into our budgets by using these money saving tips.
Go out early. Happy hour is a good time for food. Usually restaurants will offer smaller portions to coincide with their half-price drinks. Eat up…it's mostly on the house.
Use your inbox. Sign up for coupons and email alerts from your top pick of restaurants.
Have a lunch date. Lunch is good! Not only is it cheaper, but you can also usually get extras like soup or salad with your meal for less than the price of a main dish at dinnertime. If you have to go out at night, opt for a less expensive alternative like ice cream or coffee.
Skip the coffee, tea and soda!!! Restaurants are making a killing off your drink order. You are going out for food, not the Sprite. If you ask for a plain glass of water, you will knock roughly three dollars per person off your tab.
Skip the appetizer. Enjoy a generous helping of bottomless bread or chips and salsa. This should satisfy your hunger until you main course comes. And it will save approximately $8 off your tab.
Split something. Portions are way too big in America. You normally ask for a doggie bag so you don't waste all that food. Instead split a dish with someone. You will still be full and save money.
Get it to go. Instead of dining in, get it to go and rent a movie for a cheap date. A $2 tip for a carryout is a whole lot cheaper than 15-20% of your meal ticket.
Go on a Monday or Tuesday. Because the first of a week is a lot slower for restaurants, they usually offer specials to entice customers to fill their booths.
Order from a kid's meal. If you need a quick lunch or something light, order from the kid's menu (but only if the restaurant allows it.) The portions are usually enough to fuel you for a light meal. Ask if you can trade in the toy for a bigger size or an ice cream cone.
Avoid major holidays. Fixed priced menus are becoming increasingly popular for major holidays. Try going the day before or the day after when prices are back to normal.
Don't do a sports bar.

 

Watch your sports at home where the snacks are already purchased. If you go out, chances are your will end up watching TV and eating mindlessly.
Restaurants are a fun treat that you definitely don't want to cut out of your budget. But if you do want to cut back, these are some great ways to do it. Instead of dining out all the time, spend some time planning where you will go and what you will order. The less you spend, the more you can save for other goals, like an all-you-can-eat cruise to the Caribbean!