Humans of The Farmers Bank: Michelle Thomas
Michelle Thomas is an expert at customer service. Thomas is a customer service representative and bank officer at the Tom Austin branch in Springfield, Tennessee. For many years in the corporate and community banking world, she has the talent and experience to showcase exceptional customer service.
Thomas grew up in Springfield, Tennessee where she completed high school and then attended Nashville State Community College. She married in 2009 and had a little girl in 2020. Thomas is also very involved with her church, Bethel Apostolic Church, where she is the secretary, minister, and involved with youth activities.
Thomas has been in the workforce since she was 14 years old. In the summer, she would do clerical work for the Robertson County Mid Cumberland Summer Program. Through this program, she helped with the Springfield Water, Sanitation and Electric Department. She says, "Just by working this summer program helped me get into banking because I had that clerical background just by talking and interacting with people."
Going through the summer program made Thomas a natural at customer service. She learned how to interact with her customers to find the solutions to their problems with ease. The best advice she received to help create a lasting bond with a customer is to "always keep a pen and paper handy. This allows you to remember and repeat to the customer the details of their issue back to them. They are hooked because you listened. They will be a customer for life because, even though you are busy with a long to-do list of customer issues, remembering their specific case will show that you care."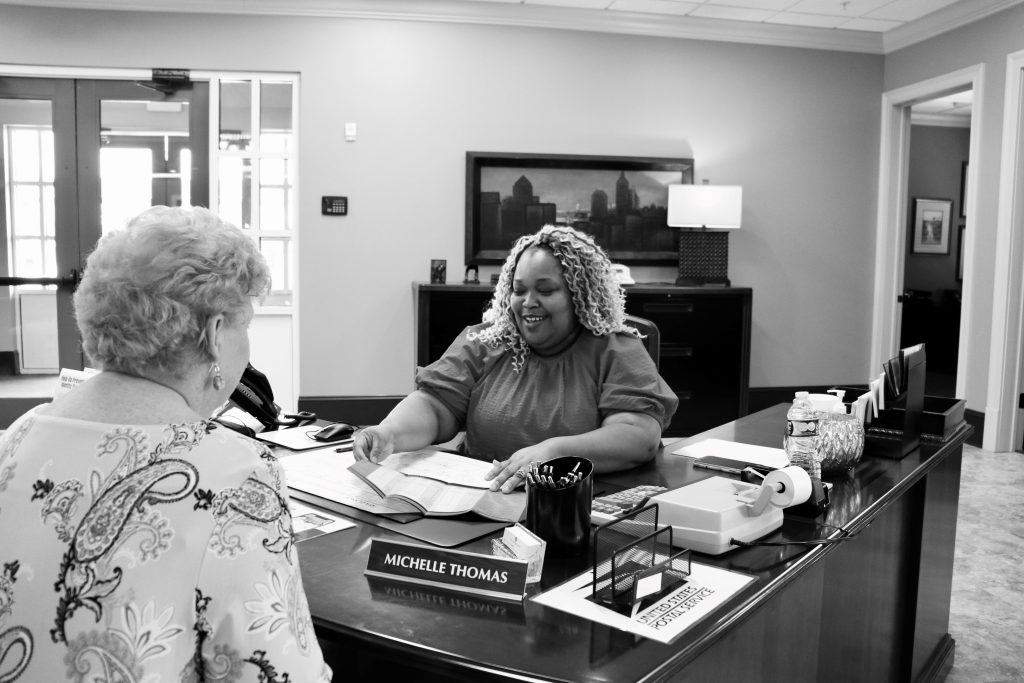 In 2003, Thomas worked at her first banking job at National Bank of Commerce in the Springfield, Tennessee Kroger. She used all her knowledge working her summer jobs and put them to use. She was the "teller, customer service representative, and helped with the applications for loans." She grew her knowledge of many aspects of the banking world.
In 2006, she moved to a newly revived bank, where she could use her abilities to grow and gain customers. Commerce Union was being built back from its former president, and they wanted Thomas to join their newly formed team. The president, himself, called her and asked if she wanted to join the team. She happily joined the new Commerce Union Bank as their new teller.
Thomas explains that Commerce Union was built from scratch and every employee was hand picked by the leadership team. "Commerce Union was a community bank. We built that bank. We built every relationship. We put in every product. We filled out every piece of paper to build that bank."
With Thomas's expertise in customer service, she helped gain customers for the new bank. One of her best qualities is relating to the customer and making sure they are put first. When there is a long line of customers who are waiting for help, she makes sure they are noticed and they are on her radar. "I always make sure people are seen."
That is not always the case when a bank moves to a more corporate scene. In 2015, Commerce Union merged with Reliant Bank and became a more corporate bank. Thomas explains that the corporate world can create "a lot of problems with customer service because of the fast-paced process."
Community banks want their customers to feel like family. Thomas says, "Customers want to know the name with the face. They want a relationship with you instead of a short, sweet, and to the point interaction. That is why I love community banks, because you are family, and I feel that here at The Farmers Bank."
She said she started to not "feel the community" in the corporate world, but while at a community bank, she felt that she was in the community helping and forming relationships more. One of her favorite things to do at the community banks were community events and forming those personal bonds with customers.
Thomas believes that attitude is everything. She says, "You are human just like them, and you don't know if you are the first person they have seen that day. Always have a good attitude because it can change a person's day."
From many years of working in customer service, she has advice for creating lasting bonds and keeping customers first. Thomas is known for her kindness and smile that she wears every day. She illuminates the room with her attitude and awareness of others. She loves life and the ones around her. "I love people. I want to do what's right, and I want to have a good time while doing it."